United with and committed to ENERGY OBSERVER and SOLIDAIRES EN PELOTON – ARSEP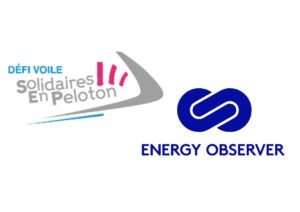 The DELANCHY Group is reasserting its support for ENERGY OBSERVER and SOLIDAIRES EN PELOTON – ARSEP. Two causes very much in line with our convictions and our CSR commitments.

Around the world with ENERGY OBSERVER exploring the environment and developing clean energies and hydrogen.
With the DEFI VOILE SOLIDAIRES EN PELOTON to help the ARSEP Association in its fight against multiple sclerosis.
Brigitte DELANCHY: "More than ever, maintaining and supporting this magnificent solidarity! The DELANCHY Group remains committed always to SOLIDAIRES EN PELOTON – ARSEP. It's our response and our responsibility to act. An association with a big heart and members that embody this commitment by flying the flag for this fight".

Thibaut Vauchel-Camus, Skipper and co-founder of the Défi Voile Solidaires en Peloton

"We need to be in sync in order to advance this project, live the adventure and share the emotions. That's why, the entire team is extremely proud to have the DELANCHY Group at its side, drawing on its energy and goodwill. It's thanks to their road miles that I can cover miles at sea and that we can bring ever greater hope to patients affected by multiple sclerosis".
Brigitte DELANCHY: "The environment is at the heart of our concerns. We're sailing with ENERGY OBSERVER to prove that a more respectful future for mankind and the planet is possible. This project is in perfect harmony with our desire to develop renewable energies".

Victorien Erussard, Founder and Captain of Energy Observer

"Energy Observer's Odyssey exists thanks to the financial, technological and human commitments of a solid partner base, of which DELANCHY has been part from the outset of the adventure. Energy Observer intends to act as a catalyst to enable these committed players to bring their projects to fruition and help accelerate the ecological transition."