The Delanchy Group produces its own green electricity.
Our first agency has been fitted with solar panel shade structures.
The transport and logistics agency Frigo Transports 53 now produces its own electricity! Solar shade structures are in operation at La Gravelle, Mayenne (53).
Since the end of June, our site has been producing its own energy, via solar panels covering the shade structures installed over the agency's HGV car park.
Used directly for self-consumption, this "green" electricity is therefore produced onsite and partially meets the energy demands of Frigo Transports 53.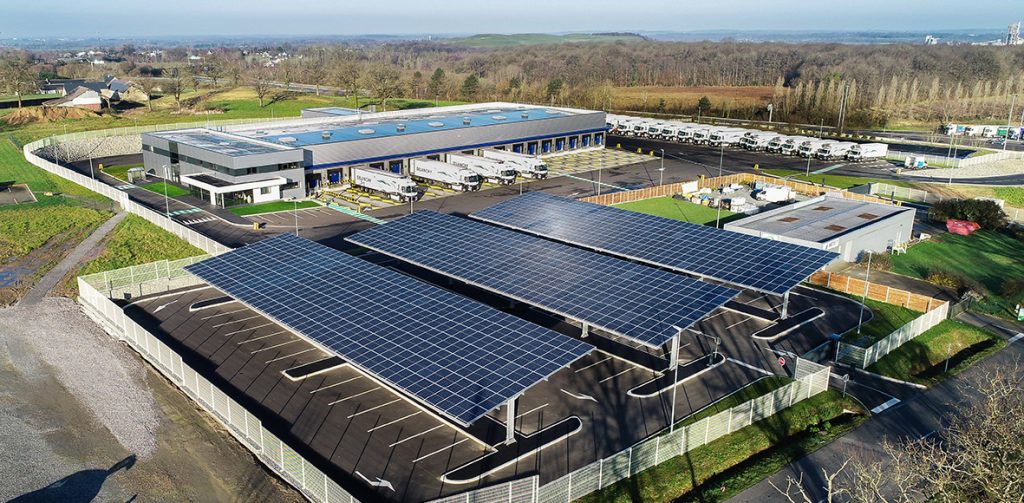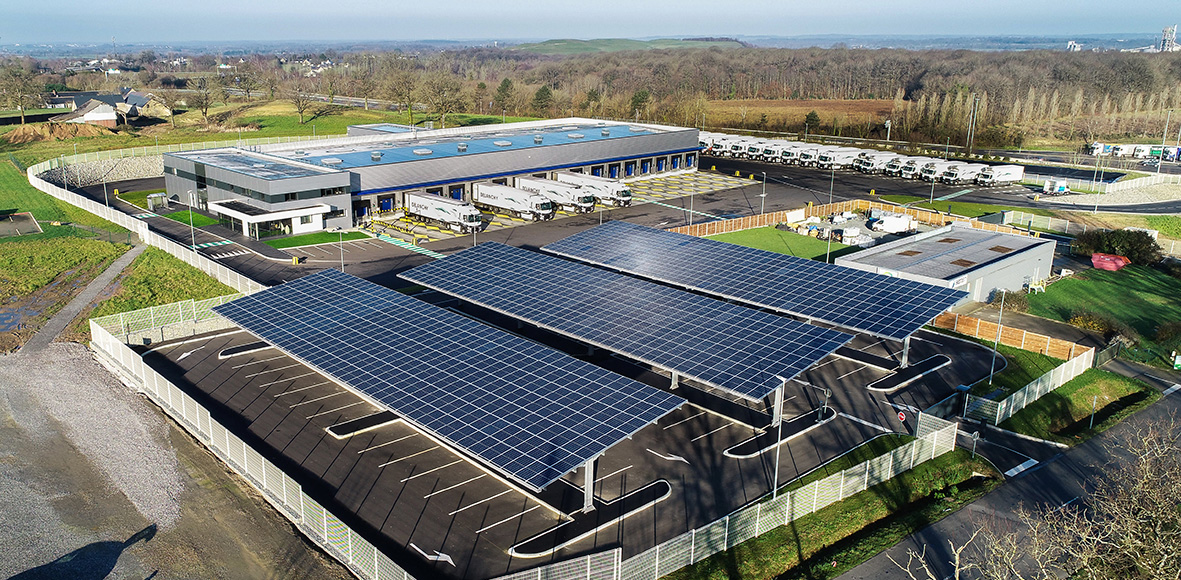 This installation should supply between 20 and 25% of the agency's consumption.
Of course, this varies depending on weather conditions. However, it should be noted that technological improvements over the past few years have improved panel performance in all light conditions. The panels are also more durable, both in physical terms and in relation to their production capacity, with a 25-year manufacturer's performance guarantee.
Some key figures:
Total panel surface area: 1,500 m²
Power: 247.8 kWp *
Average annual production forecast: 1,040 kWh/kWp
Equivalent number of homes supplied: 103
Equivalent km driven in a supermini: 696,994 km/year
Average CO₂ emissions avoided: 123 tonnes of CO₂/year
** kWp: kilowatt peak is a unit of measurement used to measure the energy generated by a solar panel when exposed to maximum solar radiation. This peak power is tested in standard conditions of 1,000 W/m²: in France, that corresponds to the hours around noon on a sunny summer's day.
Monitoring provides information on instant production and total production since the installation was connected to the electricity meter. An exterior panel displays this information to all employees and visitors to the site.
This installation, created with EDF ENR, is the first of its kinds for the Delanchy Group.
This viable and interesting project will certainly be considered for other agencies in the years ahead. The quest to produce clean energy is ingrained in our entire CSR approach, to limit the impact of our transport and logistics activities, in terms of our buildings as well as our vehicles.